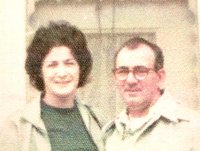 Gloria Y. Baldino
Gloria Y. Baldino (nee Bonatucci) passed away on Sunday, September 30, 2018, at the Heritage Assisted Living facility in Hammonton, NJ. She was 86.
Born in Philadelphia on December 31, 1931, she was the daughter of the late Antonio and Giovina Bonatucci (nee Fedele). She was predeceased by her husband Leonard Baldino and her siblings Angelina Bonatucci, Adelaide (Dolly) Borsa, Henrietta (Rita) Cain; Nicholas Bonatucci, Frances Calabrese, Dante Bonatucci, Emelia (Millie) Procaccini and Julia (Delores) LoMonaco.
She is survived by her sister Antoinette (Nan) Rossetti and brother-in-law Leo Rossetti. She is also survived by her devoted Godchild and nephew, Edward Procaccini, as well as many nieces and nephews.
Gloria graduated from Edward Bok Vocational High School, Phila., PA in the class of 1949 and subsequently worked as a hairdresser and film developer.
Viewing will take place Friday, October 5, 2018 from 9:45-10:45am at Our Lady of Guadalupe Parish, St. Lawrence Church, 135 N. White Horse Pike, Lindenwold, NJ 08021; followed by a mass at 11am. Interment will take place at St. Peter and St.Paul Cemetery in Springfield, PA, where Gloria will be laid to rest with her beloved Lenny.
In lieu of flowers, the family requests that donations in Gloria's name be made to either The Heritage Assisted Living Facility Activity Fund, 45 Route 206, Hammonton, NJ 08037 or Grace Hospice, 105 Fieldcrest Ave., Suite 402, Edison, NJ 08837.