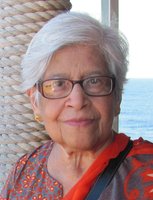 Tandra B. Roy
Tandra Brahmachari Roy, age 81, of Voorhees, NJ passed away peacefully in bed on Wednesday, October 31st, 2019.
She was born in 1938 in Kolkata in the province of Bengal, India to Sarasi Kumar Brahmachari and Leela Maulik Brahmachari.
She was an avid student of music and won many music competitions in her youth, and played harmonium and sang until her last days. She graduated from Calcutta University in 1960 and took a master's degree in Sanskrit from Jadavpur University in 1962. Following that she taught Sanskrit at the college level.
She married Tapendra Nath Roy in 1964. This was followed by the birth of their elder son Biswaroop and younger son Anandaroop. The family emigrated to the United States in 1972, where they raised their two sons in Washington, in Texas, and in New Orleans, Louisiana. She also spent many years in Virginia and her final eighteen years in New Jersey.
She is pre-deceased by her husband Tapendra, and is survived by her sons Biswaroop and Anandaroop, daughters-in-law Tina and Linta, and her beloved grandchildren Anika, Anish and Leela.
Relatives and friends are invited to attend the viewing and Puja services on Sunday, November 3, 2019 from 11:00am to 1:00pm at the LeRoy P. Wooster Funeral Home and Crematory, 441 White Horse Pike, Atco, NJ 08004.