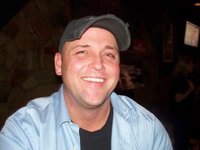 Gerald Matthew "Jerry" Wade
Gerald M. "Jerry" Wade, age 46, of Atco, NJ passed away on Monday November 18, 2019.
Beloved son of Nancy Wade and late Gerald D. Wade. Loving brother of Colleen A. Wade. He is also survived and will be sadly missed by many aunts, uncles, and cousins.
Jerry was born in Warminster, PA and lived most of his life in Atco, NJ. He worked as a welder for Local 690 Plumbers Union in Philadelphia, PA for 22 years. Jerry was an excellent athlete, excelling in baseball, ice hockey, and soccer. He loved being outdoors in the sun or on the beach. He also enjoyed fishing.
A viewing will be held on Friday November 22, 2019 from 6:00 to 8:00 pm at the Leroy P. Wooster Funeral Home and Crematory, 441 White Horse Pike, Atco, NJ, where a prayer service will begin at 8:00 pm. Cremation will be held privately. In lieu of flowers, donations may be made to the Cystic Fibrosis Foundation, 4550 Montgomery Ave. Suite 1100 N, Bethesda, MD 20814.