Traditional Funerals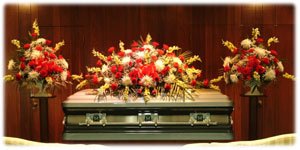 A traditional casket display with flowers
A traditional funeral is a funeral service that is usually preceded by a visitation or viewing followed by a funeral service and burial, entombment or cremation. Traditions vary by religion and ethnic origin. We are flexible and will tailor the funeral service to meet your family's preferences and expectations.

Cremation with Traditional Funeral
There are many options available in regards to cremation, such as:
Visitation and services at funeral home or alternate location such as a church with cremation following.
Private family viewing followed by religious or contemporary services and cremation.
Private family viewing followed by cremation and memorial services.
Direct cremation with no services.

A view of our in-house casket display
Funeral Directors
A Funeral Director is on call 24 hours a day, every day of the year. Our staff is always available to answer a death call, whether it is at a home or in a health care facility. We can be contacted to arrange transportation for the deceased anywhere in the United States and in most foreign countries.

Pre-Arrangements and Pre-Payment Funeral Planning
Funeral pre-planning is not difficult and can offer a lifetime of comfort. Contact a member of our staff and we will make ourselves available to discuss pre-planning and pre-payment. Click here to learn more about pre-planning.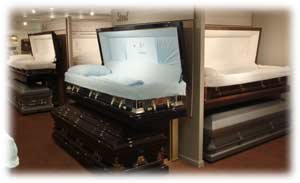 Another view of our display models